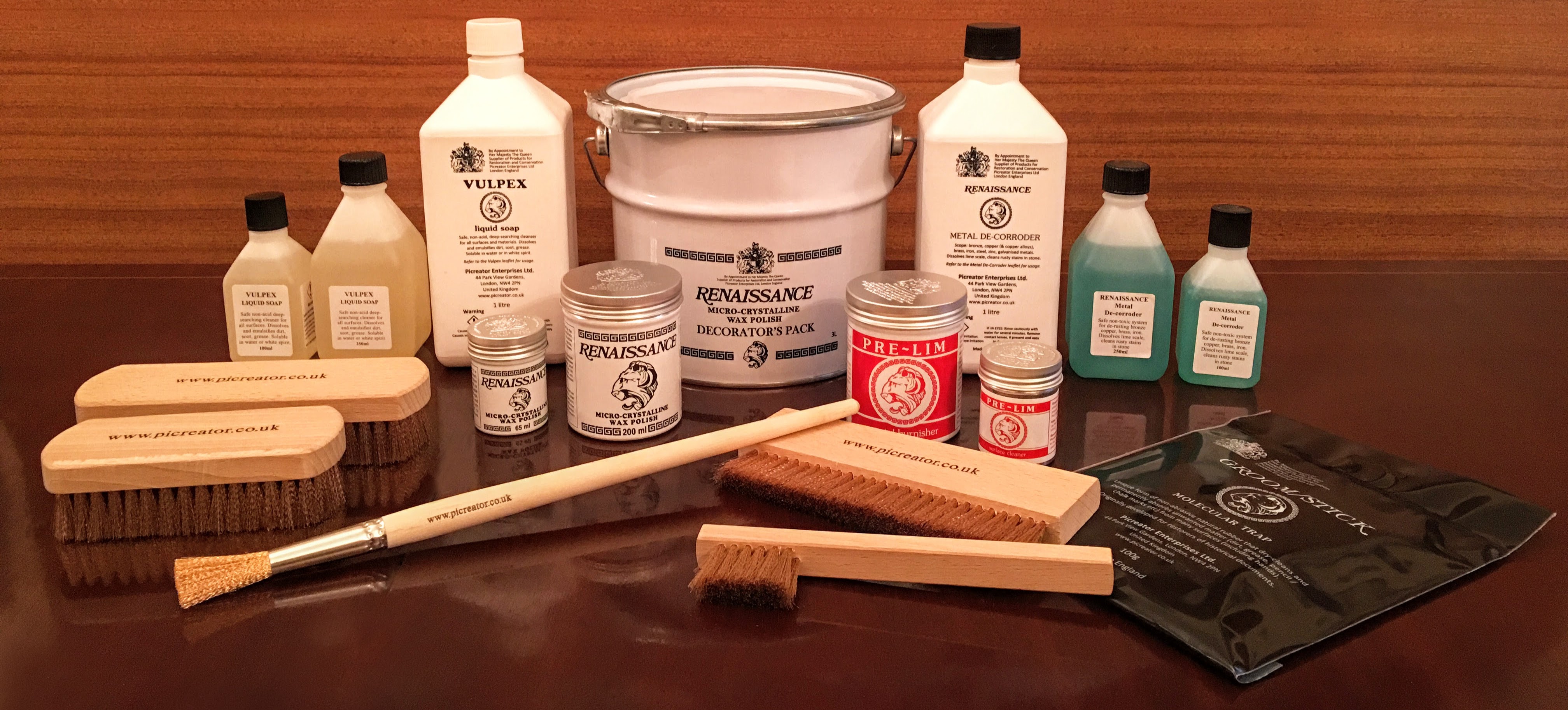 Picreator was founded in 1967, by the late John and Melanie Lawson who ran the Company from 1967 till 2015.
One the first companies of its kind in the world, it was set up to supply professional users with small quantities of products needed to restore and preserve all types of fine-art objects and surfaces, from paper to stone.
The range of products that we now manufacture includes the world-renowned RENAISSANCE WAX which was developed in the laboratories of the British Museum and is specified and used to preserve all types of objects in the museum and historic collection. Picreator is often consulted by architects and other specifying authorities who wish to use its products in the cleaning and maintenance of both interior and exterior surfaces.
The first stage of any restoration project is usually cleaning of surfaces to assess the extent of damage. Safe cleaning, with professionally-approved products, is vital to avoid immediate harm or creation of long-term conservation problems.
In 1984 Picreator was honoured to be granted a Royal Warrant by Her Majesty The Queen as "supplier of products for restoration and conservation". Our products are frequently in use by restorers at various Royal residences to preserve interior objects and surfaces as well as exterior items such as sculptures in the gardens.
The business continues to grow under the directorship of Michelle Burns, John and Melanie's daughter, who has worked in the Company since the early 1990's. Picreator is committed to providing the finest restoration and conservation products with a stringent quality control process. We are happy to deal personally with any technical issues that clients may have, to ensure that the most benefit is gained from the use of our products.
As we continue to expand, we are constantly amazed by new application ideas for our products. The popularity of social media sites has helped spread the word as people demonstrate the use of our products through videos and blogs. The diversity of uses for our products, in particular for Renaissance wax, continues to grow and we frequently hear from satisfied users who have used the products successfully on a variety of items.