Nylon Gossamer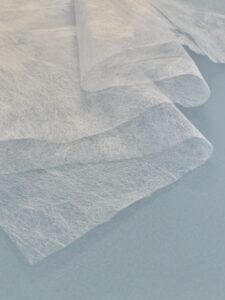 Nylon Gossamer is an ultra-fine transparent nylon tissue, free from adhesive, binders, sizes and pH neutral.
Nylon Gossamer is used by textile and painting restorers and conservators at museums around the world.
It has also long been recommended by the Fan Circle International for use in the restoration of fans and is mentioned in the Book Of Fans by Nancy Armstrong.
It is used by picture restorers for repairing tears and to support weakened tack holes on the tacking margin of a painting.
Weight: 14g/m
Width: 1m
Supply: Supplied in 5m or 10m packs or 50m/100m rolls
For total costs including VAT/carriage (UK) or details of our distributing Agents in other countries contact our office on:
Tel:+44 (0) 20 8202 8972 Fax: +44 (0) 8202 3435 or send us an e-mail via our contact page.